Plant epigenetics group
RESEARCH INTEREST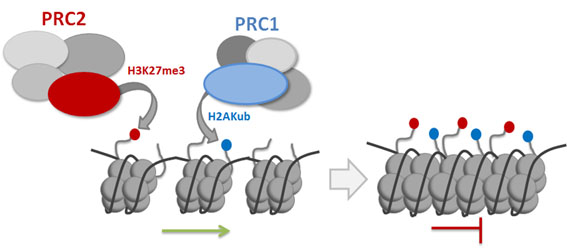 Epigenetic mechanisms underlie plant responses to environmental conditions – the more stable responses including cell fate modulation and developmental response as well as the rapid short-duration acclimation responses such as modulation of metabolic states. We are mainly interested in the Polycomb repressive complexes (PRCs) – the evolutionarily conserved histone modifying protein complexes that repress mainly developmental but also other genes. Our main focus lies in the developmental and metabolic transition that occurs during seed germination and the role of the PRCs in ensuring cell identity maintenance and metabolic response to ambient conditions.
PROJECTS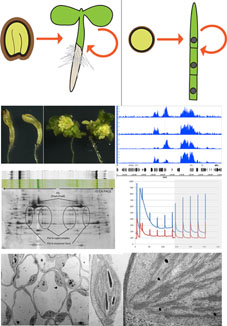 Epigenetic regulation of photoautotrophy
Seed or spore germination is coupled to major developmental and metabolic reprogramming essential for the establishment of a fully photoautotropic state in land plants. We aim to decipher (1) the role of the PRC2 in this developmental and metabolic transition and (2) its contribution to the plants´ acclimation to ambient conditions. We use the model crucifer Arabidopsis thaliana and the early land plant Bryophyte models (Physcomitrella patens and Marchantia polymorpha) to establish the extent of conservation of these regulatory mechanisms during land plant evolution.
Plant cell fate establishment and maintenance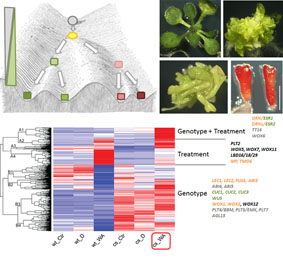 PRCs play a crucial role in the embryo-to-seedling developmental transition in Arabidopsis thaliana, ensuring stable repression of embryo-specific genes and preventing developmental fate reversal in seedlings. We have previously shown that PRC2-depleted cells can be induced by external plant hormone treatments to dedifferentiate and regain the potential to form somatic embryos. In our current work, we aim to elucidate the role of the PRC2 in establishing and maintaining plant cell identity and to identify approaches of targeted manipulation of cell fate.
GROUP MEMBERS
Iva Mozgová (ORCiD:orcid.org/0000-0002-3815-9223) https://www.researchgate.net/profile/Iva_Mozgova
Helena Hönig Mondeková (PhD student) https://www.researchgate.net/profile/Helena_Hoenig_Mondekova
Project: The role of PRC2 in photoautotrophic metabolism
Tomáš Konečný (PhD student)
Project: The role of PRC2 in cell identity specification
Kateřina Kabeláčová (technik/MSc student)
Project: Phenotypic characterisation of moss PRC2 mutants
PUBLICATIONS
Original Research
Reviews, Commentaries
TOOLS, RESOURCES
FUNDING
Czech Science Foundation (GACR 16-08423Y) (IM)
National Programme of Sustainability (LO1416)
GAJU 2016 (HHM)