ALGATECH – The Centre of Algal Biotechnology evolved from the Laboratory of Algal Research, founded in 1960 in Třeboň. Throughout its history, the Třeboň's site of the Institute of Microbiology of the CAS has focused on microscopic algae and their use in food and feed industries and in human and veterinary medicine. At present, the ALGATECH Centre is an internationally recognised centre for basic and applied research of microalgae, cyanobacteria and photosynthetic bacteria, including the development of algal biotechnology. It is the largest centre of microalgae research in the Czech Republic.The ALGATECH Centre is housed in the historic building of Opatovický Mill from the 18th century, which has been recently renovated. The Centre also operates unique thin - layer cultivation units for autotrophic cultivation and a biotechnological hall for heterotrophic cultivation of microalgae, including the equipment for processing algal biomass. The Centre is known for its excellent research in photosynthesis and algal cell cycles.
Media
How to attract more ERC €10M grants in eastern Europe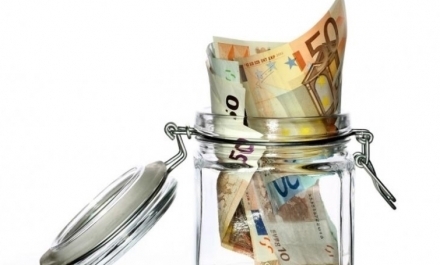 https://sciencebusiness.net/news/how-attract-more-erc-eu10m-grants-eastern-europe
Photo, text: Science Business Publishing Ltd.
Achievements
Poster award from USA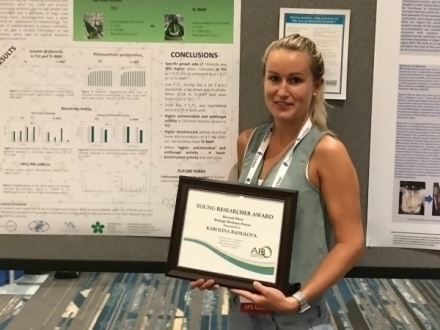 Annual Algal Biomass Summit in Orlando, USA knows the best scientific posters. That´s great that the poster "Biostimulant and biopesticide activity of Chlorella sp. cultured in pilot scale" by our colleague Karolína Ranglová is in second place. Results are part of the Horizon 2020 SABANA project.
New project Interreg CZ-AT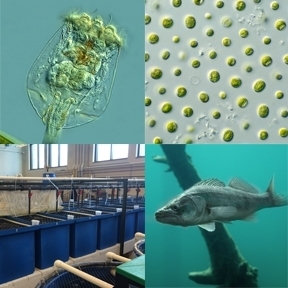 Laboratory of Algal Biotechnology get a new applied research and development project with the Faculty of Fishery of the Southbohemian University, austrian Ministry of Water Management and austrian company BEST GmbH. The project ALGAE4FISH is focused on use microalgae during rearing of pike perch fry.
HORIZON 2020 - BBI Project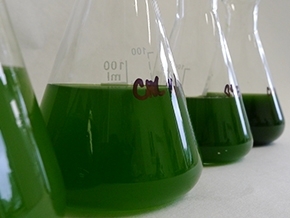 Lab of algal biotechnology and Lab of cell cycles recieved prestigious H2020 Bio Based Industry project focused on microalgae in food, feed and cosmetics. Both autotrophy and heterotrophy technology and mutagenesis are the main topics as well as use of counter current chromatography for a downstream processing. Globe market players like ForFarmers, Upfield or I.F.F. participate on the project.
Czech and Austrian scientists celebrate success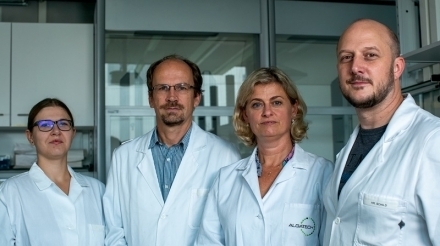 The project REEgain: Recycling of Rare Earths from Electronic Waste - EU project "Interreg V-A AT CZ" was selected by the Lower Austrian Government as a demonstration project! On this occasion, a new promotional video was made for the project - you can watch it here: https://youtu.be/dcOHqJH0Bu8. Czech and Austrian scientists can ecologically recycle rare earth elements from electronic waste! Press release here►
Important events
Algatech Summer School 2019 is over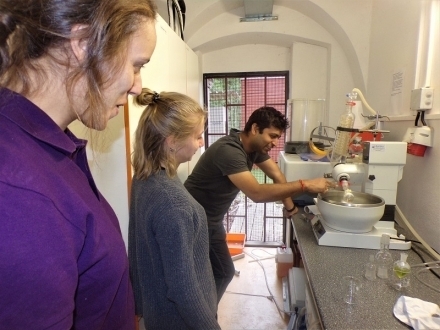 Twelve selected students from the Czech Republic, Hungary, Kazakhstan, the Netherlands, Tunisia, France, Spain and Italy worked for three weeks at the Třeboň Institute of Microbiology,CAS - Algatech Centre under the supervision of our tutors on eight projects whose final evaluation took place on Thursday, July 25. 2019. We hope that all students have learned a lot of new knowledge about scientific work in our laboratories, which they will use not only for further study.
Correspondence Address
Institute of Microbiology, CAS
Centre Algatech
Novohradská 237 - Opatovický mlýn
379 81 Třebon, Czech Republic
Billing Address
Institute of Microbiology, CAS
Vídeňská 1083
142 00 Prague 4, Czech Republic
VAT ID: CZ61388971
Data box: ndpn2cp
Bank Connection
Komerční banka, a.s.
Account No.: 2246660227/0100
SWIFT: KOMBCZPPXXX
IBAN: CZ76 0100 0000 0022 4666 0227
Send message