ALGATECH – The Centre of Algal Biotechnology evolved from the Laboratory of Algal Research, founded in 1960 in Třeboň. Throughout its history, the Třeboň's site of the Institute of Microbiology of the CAS has focused on microscopic algae and their use in food and feed industries and in human and veterinary medicine. At present, the ALGATECH Centre is an internationally recognised centre for basic and applied research of microalgae, cyanobacteria and photosynthetic bacteria, including the development of algal biotechnology. It is the largest centre of microalgae research in the Czech Republic.The ALGATECH Centre is housed in the historic building of Opatovický Mill from the 18th century, which has been recently renovated. The Centre also operates unique thin - layer cultivation units for autotrophic cultivation and a biotechnological hall for heterotrophic cultivation of microalgae, including the equipment for processing algal biomass. The Centre is known for its excellent research in photosynthesis and algal cell cycles.
New publication
How do the mysterious Swan Lake bacteria capture solar energy?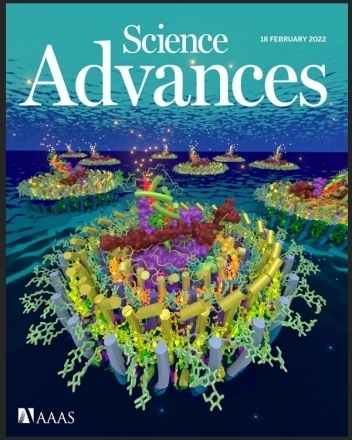 An international team led by Czech microbiologists managed to describe a unique apparatus by which special bacteria from a lake in the Gobi Desert capture sunlight.
Qian P, Gardiner AT, Šímová I, Naydenova K, Croll TI, Jackson PJ, Nupur, Kloz M, Čubáková P, Kuzma M, Zeng Y, Castro-Hartmann P, van Knippenberg B, Goldie KN, Kaftan D, Hrouzek P, Hájek J, Agirre J, Siebert CA, Bína D, Sader K, Stahlberg H, Sobotka R, Russo CJ, Polívka T, Hunter CN, Koblížek M (2022) 2.4- Å structure of the double-ring Gemmatimonas phototrophica photosystem. Science Advances 8(7):eabk3139►
Long awaited review published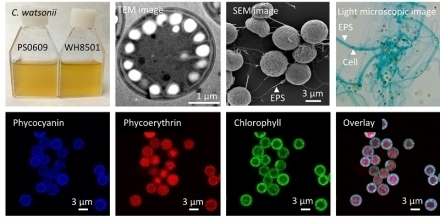 For decades, microbiologists have been studying Crocosphaera watsonii, a type of algae abundant in tropical and subtropical ocean waters. During the day, they convert carbon dioxide into sugar, and at night convert nitrogen into protein. Using these abundant gases allows them to fertilize the ocean, contributing to its carbon and nitrogen budgets. In a new paper, Takako Masuda, Jan Mares and Ondrej Prasil from Centre Algatech of the Institute of Microbiology CAS with colleague from University of Rhode island provide a long-awaited review and appreciation of this important single-cell organism. Reed more►
Media
Microalgae in interior design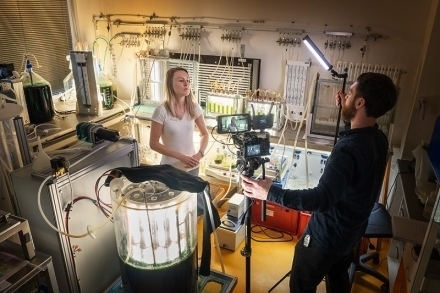 Movie Shooting in the Algatech Centre (IMIC) as a part of very interesting collaboration among architects, designers, biologists and algologists. Project called "Biotopia" tries to implement microalgae cultivation into interior design. Hanging relief structure including flasks with Chlorella will be presented in Wallenrod, Bratislava, Slovakia.
Achievements
The best article in Science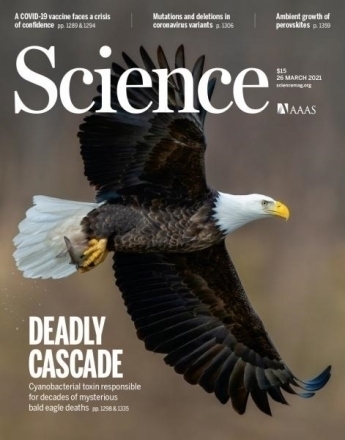 An international team including Czech researchers from České Budějovice and Třeboň (Biology Centre of the Academy of Sciences of the CAS, Institute of Microbiology of the CAS in Třeboň, University of South Bohemia) received the prestigious Newcomb Cleveland Award from the American Association for the Development of Science! Breinlinger & Phillips et al. – Hunting the eagle killer: A cyanobacterial neurotoxin causes vacuolar
myelinopathy, institutions in the Czech Republic, Germany and the United States. Newcomb Cleveland Prize►
Important events
Algae at EXPO 2020 in Dubai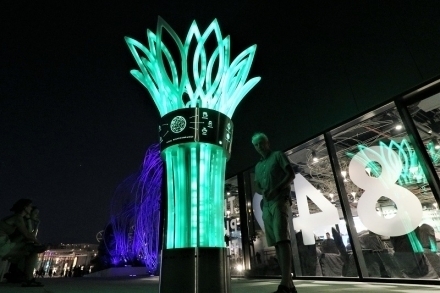 The Institute of Microbiology represents the Academy of Sciences of the Czech Republic at the World Exhibition EXPO 2020 in Dubai with its permanent exhibit ALGA OASIS.
More here►
Correspondence Address
Institute of Microbiology, CAS
Centre Algatech
Novohradská 237 - Opatovický mlýn
379 01 Třebon, Czech Republic
Billing Address
Institute of Microbiology, CAS
Vídeňská 1083
142 00 Prague 4, Czech Republic
VAT ID: CZ61388971
Data box: ndpn2cp
Bank Connection
Komerční banka, a.s.
Account No.: 2246660227/0100
SWIFT: KOMBCZPPXXX
IBAN: CZ76 0100 0000 0022 4666 0227
Send message