EU HORIZON 2020 - project "Sustainable Algae Biorefinery for Agriculture and Aquaculture"

Registration Number
For Years
Project Name

Total Subsidity

Project Description

727874

2016 - 2020

Sustainable Algae Biorefinery for Agriculture and Aquaculture

prof. RNDr. Jiří Masojídek, CSc.

€ 549 750,00

SABANA aims at developing a large-scale integrated microalgae-based biorefinery for the production of biostimulants, biopesticides and feed additives, in addition to biofertilizers and aquafeed, using only marine water and nutrients from wastewaters (sewage, centrate and pig manure). The objective is to achieve a zero-waste process at a demonstration scales up to 5 ha sustainable both environmentally and economically. A Demonstration Centre of this biorefinery will be operated to demonstrate the technology, assess the operating characteristics of the system, evaluate environment impacts and collaborate with potential customers for use.
SABANA project includes (i) the utilization of microalgae-bacteria consortia and in co-culture with other algae to control grazing species, (ii) the implementation of efficient thin-layer cascade and raceway, (iii) the scale-up of reactors to ensure stable operation, (iv) to use marine water to increase the sustainability of the process; (v) to recover nutrients from wastewaters, (vi) to develop harvesting processes taking into account the remaining water, (vii) to establish processes for mild/energy efficient extraction of bioproducts, (viii) to process residual biomass to produce biofertilizers and aquafeed in zero-waste schemes, (ix) using robust and sustainable technology.

"This project has received funding from the European Union's Horizon 2020 research and innovation programme under grant agreement No 727874 ".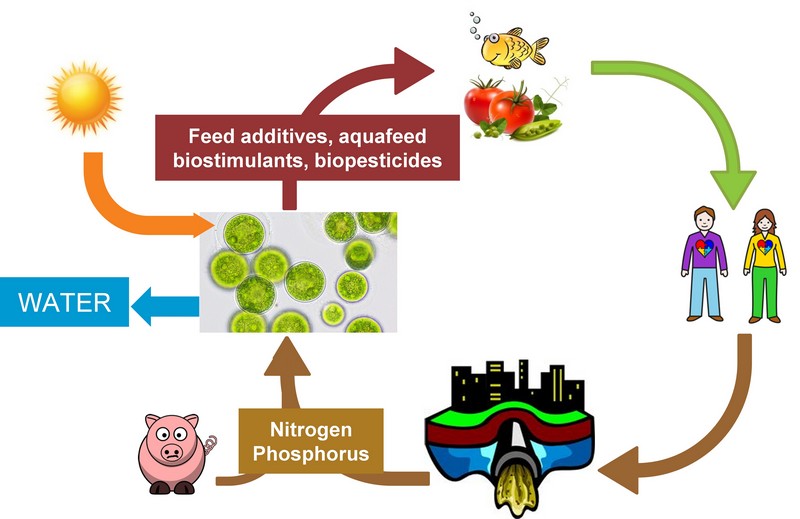 EU HORIZON 2020 project SABANA "Sustainable Algae Biorefinery for Agriculture and Aquaculture" (2016-2021) is aimed to demonstrate a large-scale microalgae-based sustainable technology for production of high-value products (biostimulants, biopesticides, aquafeed additives) as well as low-value products (biofertilizers, fish feed) recovering nutrients from wastewaters (municipal wastewater or pig manure). Our team has been involved in the screening and selection of microalgae strains producing biostimulants and biopesticides for agricultural use. For this purpose experimental cultivation units – thin-layer cascade and thin-layer raceway ponds placed in greenhouses were constructed in Centre Algatech.
Two DEMO plants in Mérida (2 ha) and Alméria (1 ha) are operated in Spain and one more in Hellin (2 ha) is being finalised. Large-scale industrial facility of 20 ha will be projected after validation of complete cultivation and processing technology in the Demo plants. In the final year of the project the large-scale outdoor plants in Mérida (operated by the company Aqualia) and Alméria (operated by the company Biorizon Biotech) are being validated as concerns the growth and stability of microalgae cultures cultivated in municipal wastewater for biomass use in agriculture as biostimulants and biofertilizers. September 2021.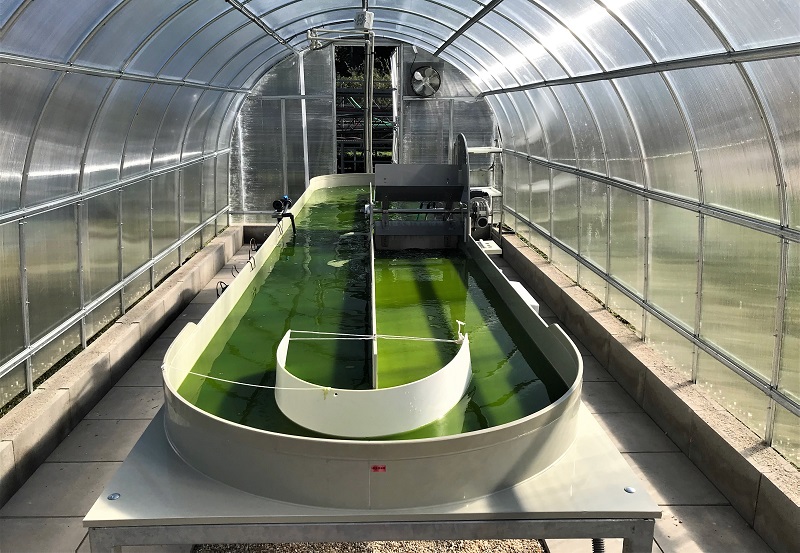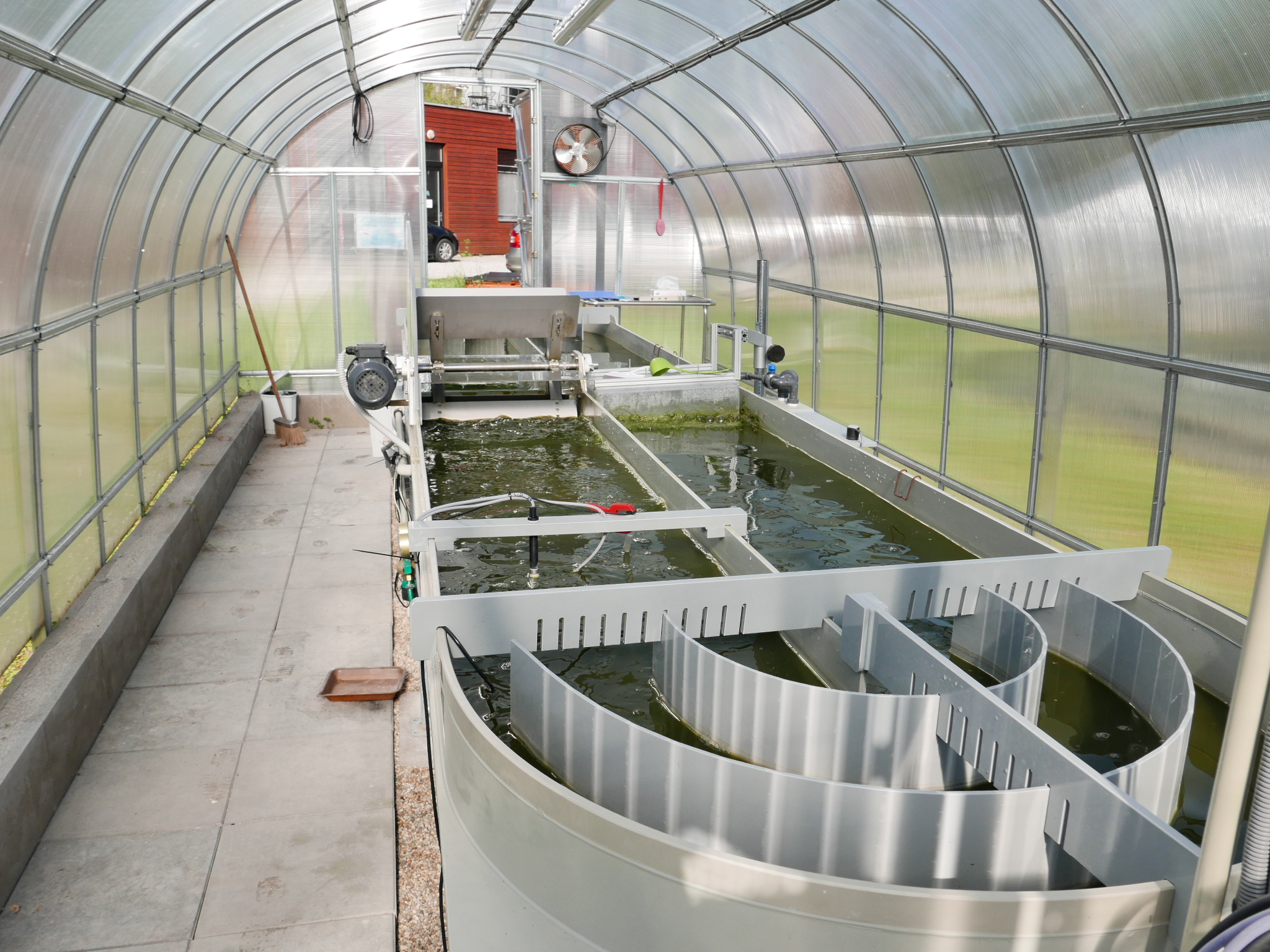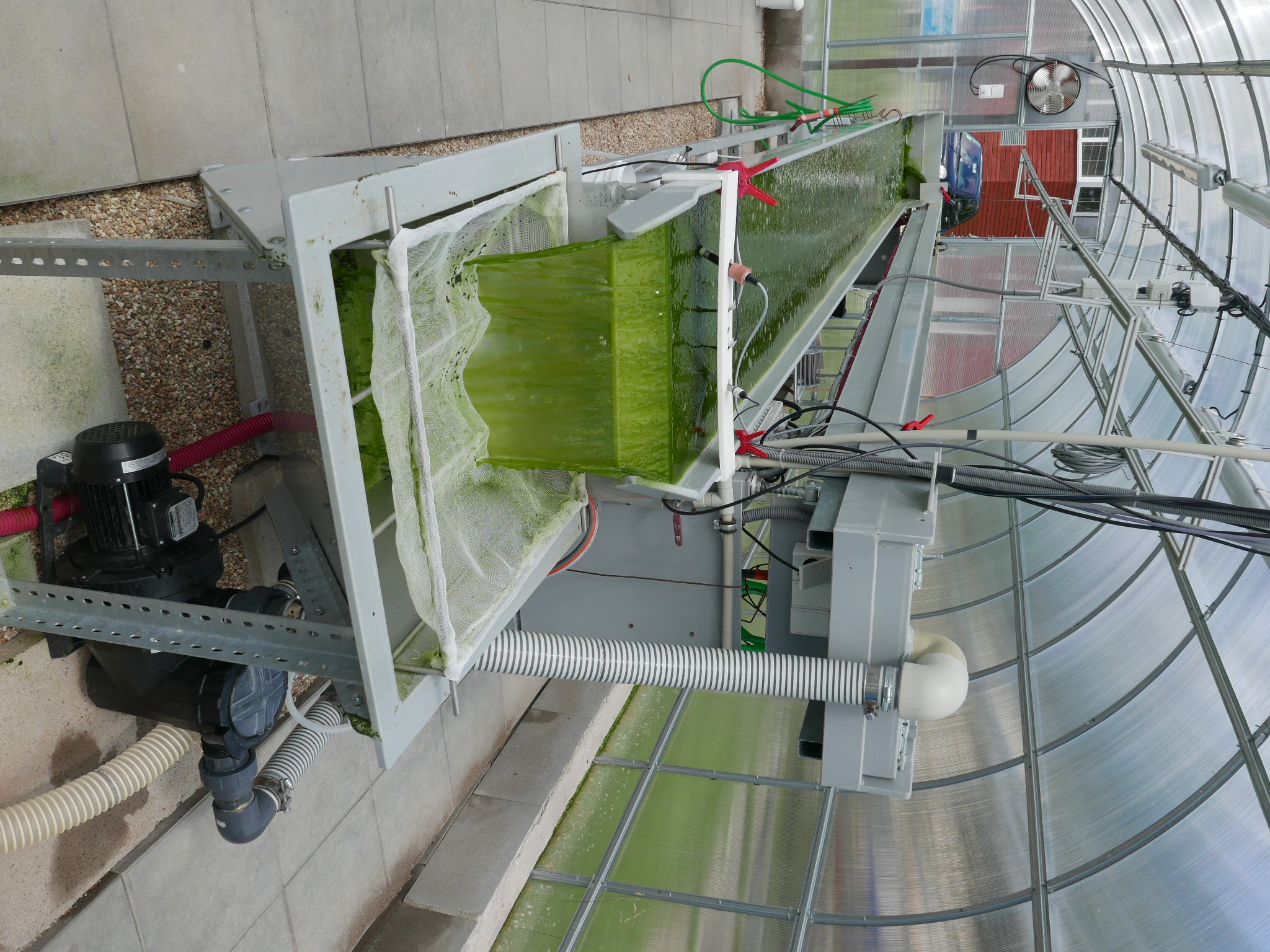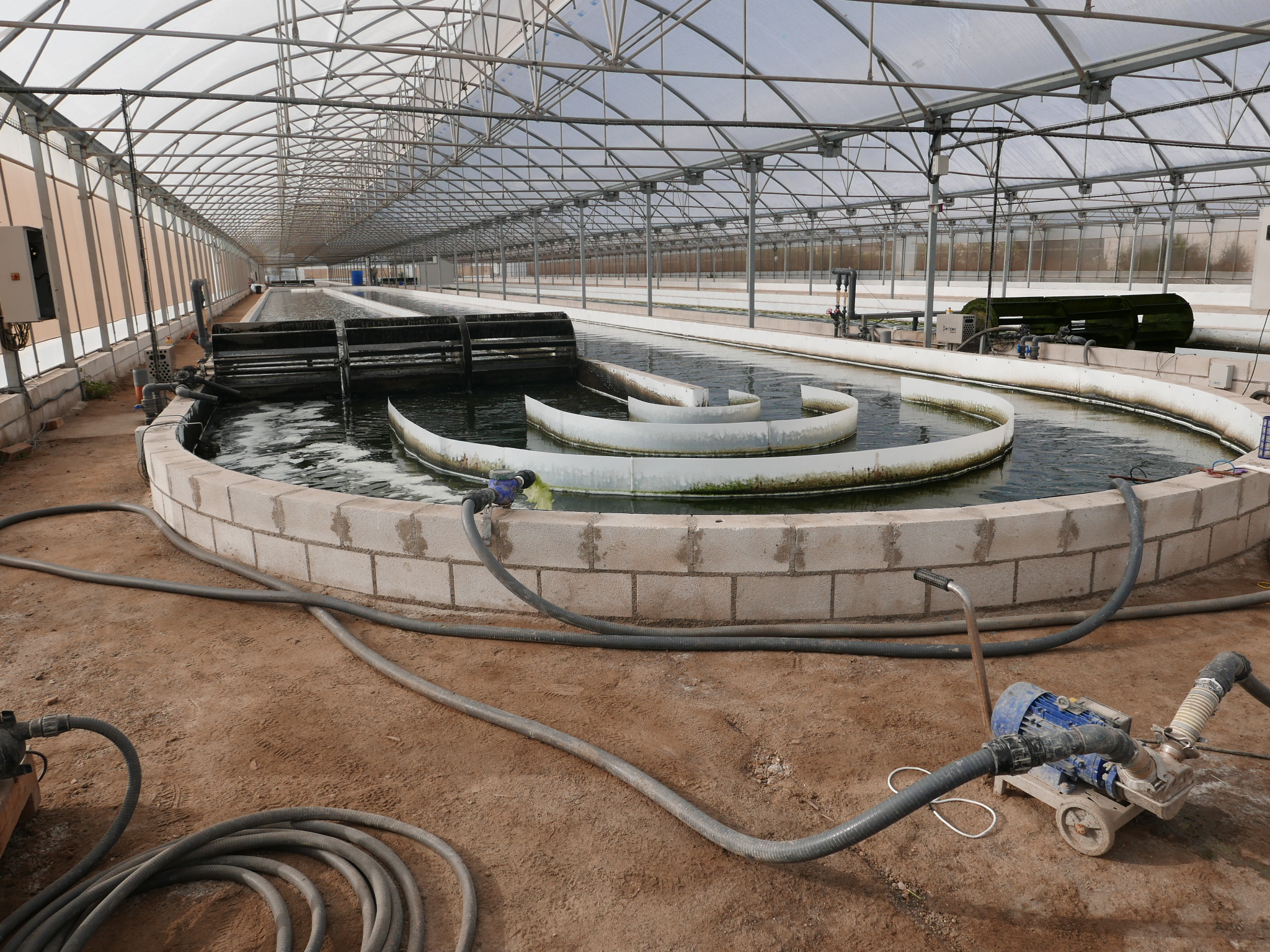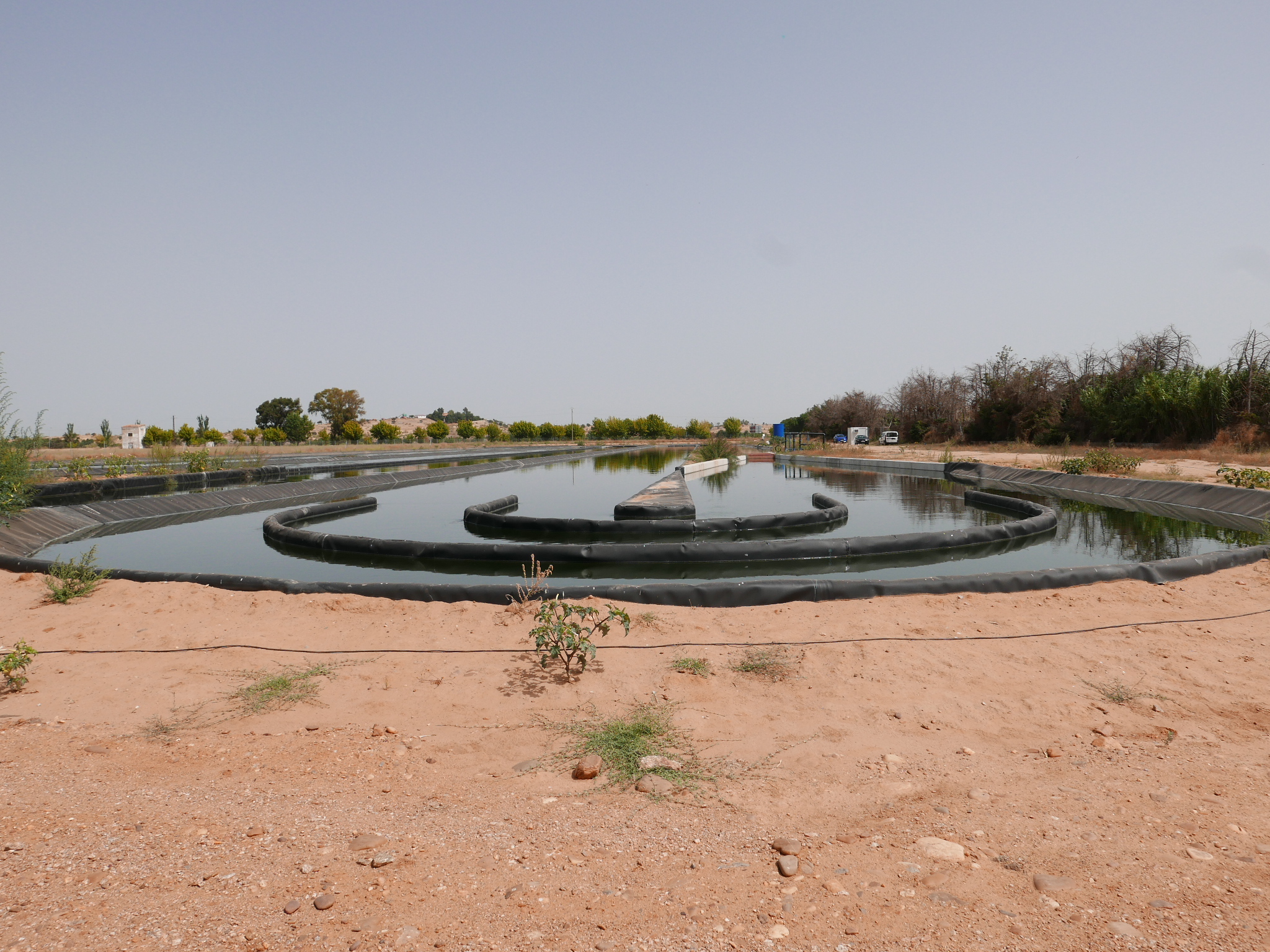 Pictures above: Small raceways in Centre Algatech (1-2); Small cascade in Centre Algatech; Demo cultivation plant in Biorizon Almería; Demo cultivation plant in Aqualia Mérida.